Why should You Keep Your Mind Active During Retirement?
If you don't use it, you lose it! Researchers believe that many of the supposed age-related changes which affect the mind, such as memory loss, are lifestyle related. So how can you keep your mind ticking over once you are outside of a work environment? Growing older doesn't mean that your mental and physical abilities will necessarily be reduced. You do not have to stop learning, seeing or creating memories. Retirement is simply the start of a new phase in your life. The world is your oyster and you now have more time than ever before to do whatever you want, whenever you want to!
Stay Active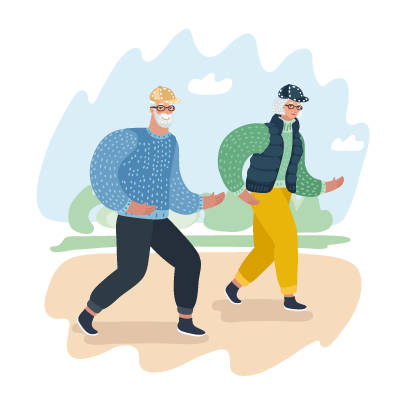 It is true that a healthy body leads to a healthy mind, so it is important to give your body plenty of TLC. Walking is one of the best ways to be active, its free and you get fresh air! Studies have shown that walking an average of 6 miles a week is a surefire way to keep your brain active and fight off dementia. Do you own a dog or even have a family member or friend who does? Taking him or her for walks is enjoyable and beneficial for both. Why not try something new? Yoga is ideal as it is gentle and safe without the risks of high impact exercise. It strengthens your core and joints, often even improving mobility. Yoga encourages the mind to stay alert through learning better posture and deeper breathing.
Mindfulness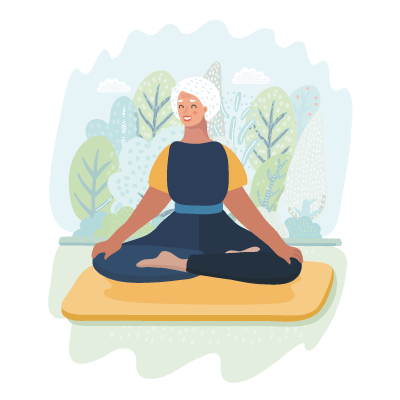 As well as yoga, mindfulness can also be used to improve mental health and physical wellbeing. Whilst retirement is intended to be relaxing to reward for years of hard work, it can be hard to adjust to losing the structure of a 9-5 job. Retirement can bring a new kind of stress as it is a huge change to your lifestyle. Now is the perfect time to reconnect with parts of yourself or desires that may have been hidden. Being mindful is about paying attention to what is happening in your surroundings and within you at this present moment. Being mindful of what you are doing, why you are doing it and how that benefits you, will help you pin down your retirement purpose. This can lead to a happier, more fulfilling life. Why not read one of the many books available about Mindfulness or find a class or seminars to attend?
Eating Healthy
It's important to eat a well balanced diet, with a good mixture of different food groups to supply your body with all the nutrients it requires. Fruit and vegetables are a good source of vitamins and minerals and the government suggests we should all eat 5 portions a day. Foods such as fish, seeds, nuts contain essential fatty acids to help with joint and brain function.
But it doesn't mean that you cant enjoy the odd treat – everything in moderation!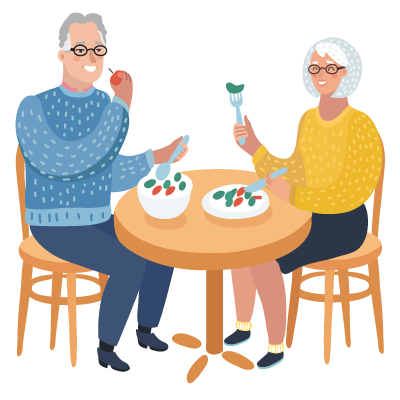 Learn New Things
You are never too old to learn something new! Join a cooking class, meet new people. Is there a craft you always wanted to try? Perhaps you have always wanted to learn a new language? Whether it is gardening, ballroom dancing or painting, do things you have never done before as retirement is a great opportunity to step out of your comfort zone. Keep a journal of all the new things you try and learn, get those creative juices flowing!
Socialise
Getting out and meeting people must never become a chore – enjoy and embrace it now you have the time! Consider joining some clubs, perhaps crafts or sports. If you are not quite ready to hang up those working boots just yet you could volunteer or even get a little part time job which will help you to interact with new people. Most Girlings apartments are in developments where there is a lounge and garden to be enjoyed by residents – great places to get together with old and new friends or even hold communal events. However you choose to keep your mind active now that you are retired, just remember to enjoy it! You have worked hard to earn this time, spend every second wisely and do what makes you happy.