When Diana Carteur, a 65 year old former vocational Ballet School Principal, moved to Jenner Court, a retirement development in Weymouth it was life changing.
Diana had lived on Lesvos, a Greek island for nine years where she owned her own property. But in 2013 she returned to the UK due to ill health and the Greek financial crisis. Unable to sell her greek seaside property, she had no choice but to abandon it along with most of her belongings. On her return to England, Diana stayed with a friend in North London until Harrow Council found her a council flat.
Diana struggled to adapt to her new home. She says, "The flat was nice but I felt very isolated. I had no friends nearby and was one of only two people in my block that spoke English. The area had a high crime rate; drugs and knives were rife on the estate and I felt frightened to go out. I became reclusive and apart from going to work, I never left my flat or talked to a soul. My health began to deteriorate and I missed living by the sea enormously."
In desperation Diana decided to try to move to Weymouth where her family was from and where she had lived when her children were small. She knew the area well and felt an enormous connection with the region, and of course she would be near the sea again.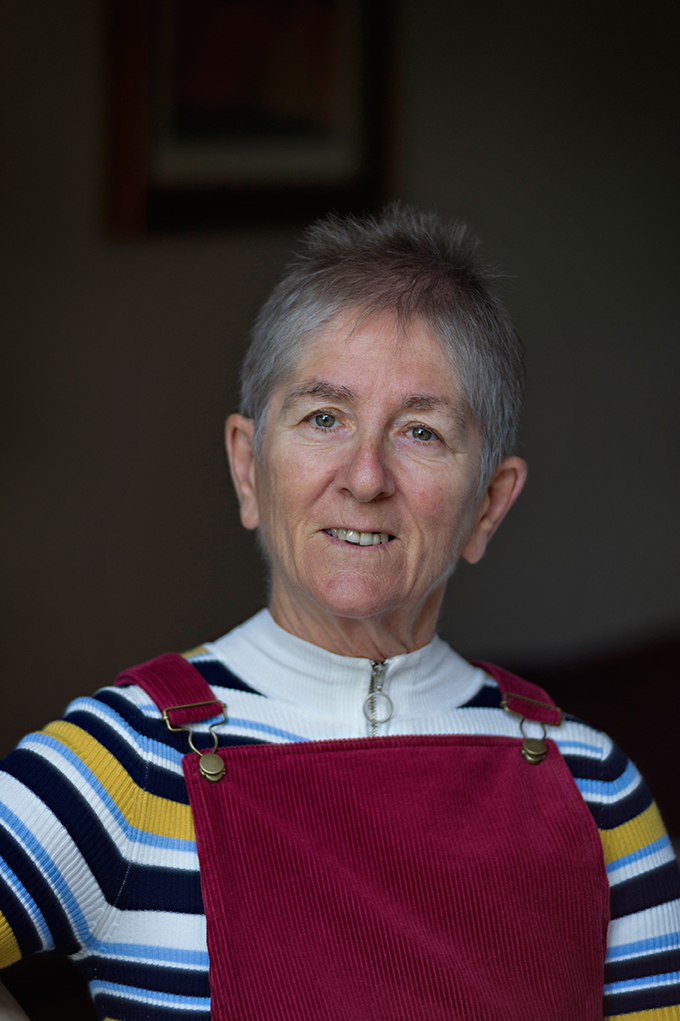 In November 2017, Diana travelled to Weymouth to find a flat. She explains, "I visited various estate agents in the area but on hearing that I would need to claim housing benefit, none of them would allow me to view their properties. A friend told me about Girlings Retirement Rentals. I looked them up online and saw they had a flat available in Jenner Court which I made an appointment to view."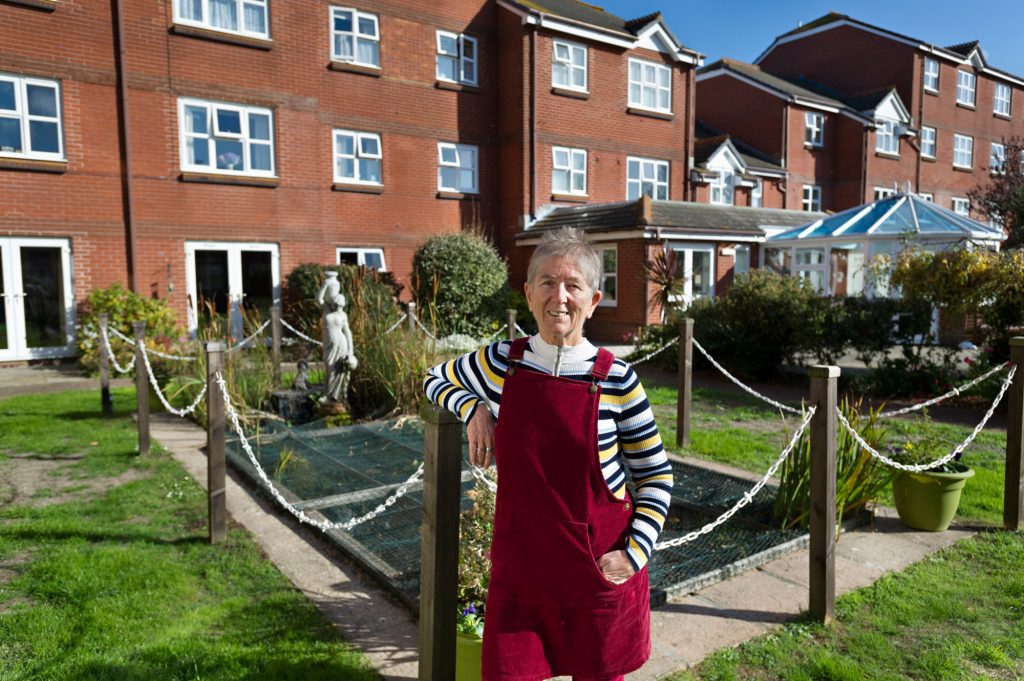 Diana really liked the development and the area. Jenner Court has lovely communal gardens and enjoys the best of both worlds being close to the beach and the town, as well as being just a few minutes walk from beautiful countryside.
"I talked to the team at Girlings about my situation and they weren't phased at all. They helped me calculate how much housing benefit I would be entitled to and if I would be able to afford the apartment. I was able to reserve the apartment without any issues.
"The clincher was that Girlings could offer me an assured tenancy. When I gave notice to Harrow Council they researched the company as they were concerned about my long-term security as a private tenant. However, on seeing that Girlings offer assured tenancies and that I would be able to stay in my new home for as long as I like they were happy for me to make the move."
Diana found it a quick and easy process and moved into Jenner Court in December 2017 just a month after first viewing the property.
Since moving in to her Girlings apartment, Diana's health and wellbeing has improved enormously. Her blood pressure had risen to dangerously high levels during her time in Harrow, but since her move it has fallen to a normal level.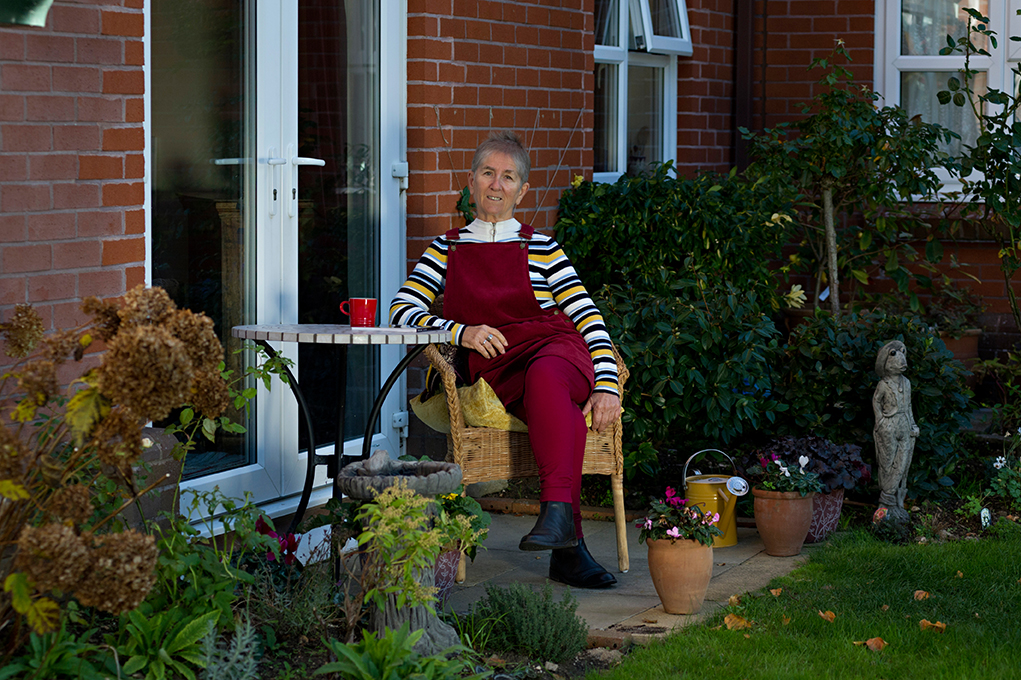 Diana comments, "I found everyone at Girlings so helpful and I feel so supported by them. My life, which had been miserable, was now back on track and I knew I would be happy here."
Since making the move Diana has rekindled her passion for art. In Greece, she was well known for her paintings which she sold to tourists. Since moving to Jenner Court, she has started her own art design business making a beautiful range of greetings cards under her brand Swansong Creations. She sells them through a website created by her next door neighbour and she also writes a weekly blog. The blog has become so popular Diana has been approached by a publisher keen to publish her life story and she is now in the early stages of writing her book.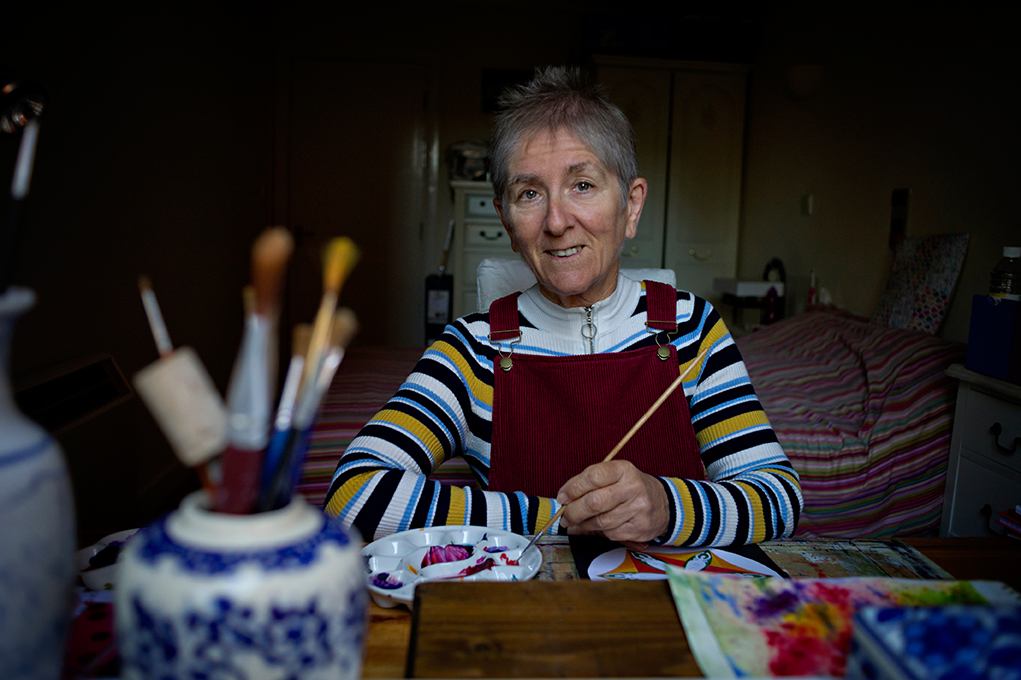 Diana now leads a rich and busy life in stark contrast to the social isolation she experienced when she first moved back to the UK. She walks by the sea every day and enjoys pottering around her patio and the communal gardens with her neighbour who has become a great friend. Diana has also joined an indoor lawn bowls club which she visits several times a week and where she has made many friends.
"For me, and I'm sure for a lot of other older people, I need to know that I have extra support at home and that I'm safe because I don't have a family network around me. Girlings has given me that sense of security," explains Diana.
"I find it really reassuring that I can stay in my home as long as I like, especially after the upheaval of the last few years. It gives me peace of mind to know that Girlings are always on the end of the phone, and if something goes wrong in the apartment all I have to do is call the maintenance department and they will sort it out for me. I also find it reassuring that there is an onsite manager – these things are a lifeline for me."
Reflecting on her life Diana says, "Before moving to Greece my life was full of creativity, art and music. I loved my time in Greece and found returning to England very hard, particularly without money. I felt that my life was not worth living. Moving back to Weymouth has been wonderful for me, and I will never forget the fact that Girlings helped make that possible."
You can see Diana's artwork and read her blog here: www.swansongcreations.co.uk